It's 3 am on launch day... Do You know Where Your Graphic Artist is??
The Shocking Lie Professional
Graphic Artists Will NEVER Admit...

...They Are Using The Same Point & Click Easy Software And Professional Templates You Are Getting For Free As An Instant Banner Creator Member!

Here's the Inside Scoop on How to
Protect Your Hard Earned Cash...

...Because Now You Can Easily Create Your Own
Professional Looking Graphics In Minutes!

And It's Completely FREE!
December 14th, 2008, 3am
From John Merrick & Soren Jordansen
Dear Entrepreneur,
You think outside the box.
You have to. If you didn't, you'd be a corporate exec for a Fortune 500 company somewhere, or a janitor. In fact, you might have been once. But now your mind is always working, thinking about the opportunities around you and how you can turn them into cash.
And you know that speed is important. The first person out of the block has a huge advantage...
And while you may have a Graphic Artist, whose work you love, you know that you have lost many extremely lucrative opportunities because you had to wait 4 days (if you are lucky!) to get the graphics.
And then there is Testing, testing, testing...
Wouldn't it be nice to test all the variations you want without paying an arm and a leg while you wait a week for it to be done?
Now you can make your own professional graphics in seconds... Even if you're graphically challenged, colour blind and can't tell the difference between red & green.
"...Professional Graphics Without the Professional Price or the Professional Wait!"
Hey John and Soren,
I have been using IBC for a month now and I have to say, I love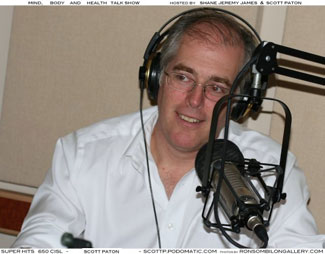 the speed with which I can make my banners, headers and footers.
Plus they have been every bit as good as the work my regular designer does.
While there will always stuff for him to do, this frees up a lot of my time and money when I split test and want to try different ideas and banners on my marketing.
And we all know that small changes often bring HUGE improvements in sales and profits...
Keep up the good work!
Scott Paton
www.ThePodcastBootcamp.com
P.S. Soren and John I just made this banner for my site and it's already getting clicks... It only took me 10.4 seconds to do - thank you so much!

(made in 10.4 seconds!)

Get Your Banners Done Instantly!
My Graphic Artist almost went on strike when he saw the banners I made with Instant Banner Creator. But when I showed him how quick it was and easy to use, he demanded a copy for his own use!
It was like a breath of fresh air for him.
No longer did he have to do the drudgery parts of design. Changing a font, or a word, or even a background on my whim. I could do it. He could focus on what he likes doing: create stunning graphics.
And now you can, too!
Take the Instant Banner Creator Tour
Join us on a guided tour of IBC. we'll show you it really is as easy as 1... 2... 3! Watch and see for yourself...

Your first step is to decide what you want to make. A banner? Header? Footer? Button? Peel Away Ad or something else?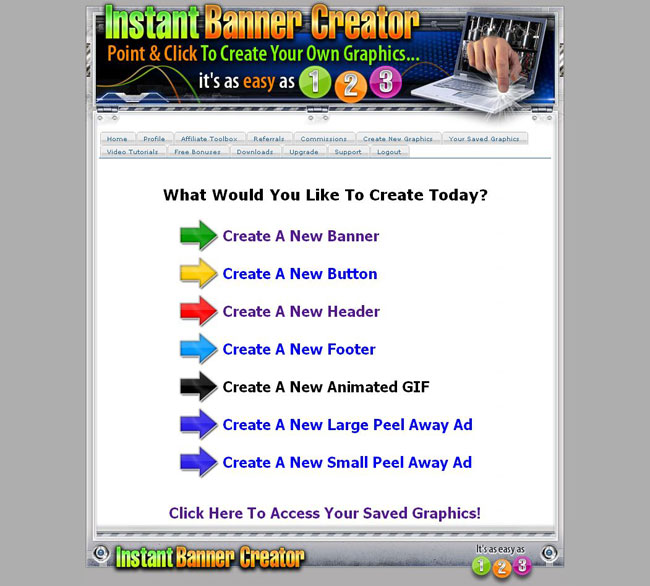 Say you want to make a banner... Just click the link next to the green arrow you see on the screen above - Then scroll throug the library of backgrounds...
Select your background. Click on 'Use Banner'. Next you add your text.
Once you have the text inserted, you can add more clipart, change the text, change the background. All with a click of your mouse. Moments later when you have exactly what you want, simply click again to save it to your gallery.
We will even host your graphics for you... You can keep your images on our servers for as long as you want. No charge. No need to FTP, download, upload or anything like that. But of course you can also download a copy to your computer.
When you grab your free membership today, we'll even show you how a very similar process will make animated images, like this one, just as fast!
"...Save Hundreds of Dollars and Hours of Professional Training!"
Hi John and Soren.
Many people have asked me where they can create their own banner ads, and I was never able to provide a good answer. Graphic software used to cost hundreds of dollars to purchase and required professional training to use.
Those days are over as Instant Banner Creator provides the service that so many have been looking for. Instant Banner Creator lets Internet Marketers, both beginners and experts, create their own free graphics in just a few easy steps.
Josh Abbott
http://intellibanners.com

Introducing Instant Banner Creator
With Instant Banner Creator, in seconds, you can make professional:
Banners
Headers
Footers
Buttons
Your own splash pages
And much more!

And it gets better...
Just Added... Peel Away Ads!
They are all the rage. Unobtrusive sales collectors... Peel Away Ad images. Yours in seconds!
Watch the video...
Here are three steps... Pick your background or upload your own background. Then add in your text and any clipart. Then save your image.
And it all takes less time than it takes to read this...
"...Took Me Only a Few Minutes to
Create My Banners!"
Hi John and Soren.
I just wanted to say THANK YOU for creating Instant Banner Creator! It only took me a few minutes to create some banners from scratch.
There are so many graphics options and I love the animation option too. This is one unique tool that will help you to stand out from the crowd by creating your own banners.
Great job guys!
Daniel Duverge
www.InstallScriptsVideos.com

Or this...
"...save a great deal of time and money"
Hey Soren & John,
Just wanna congratulate you guys on coming up with such an awesome and innovative service!
I merely spent a couple of minutes playing around with your "Instant Banner Creators" system and have created a ton of cool graphics for myself.
You can well charge a monthly fee for this but it's amazing that you're actually allowing FREE access.

This will definitely benefit a ton of marketers by helping them save a great deal of time and money.
I'm certain you've got a winner in your hands!
Best,
Calvin Woon
www.IMBuzzSoftware.com

Traffic Exchange Bonus
A great way to get tons of new traffic is thru Traffic exchanges. And a great way to attract surfers is by making splash pages. With Instant Banner Creator, you can make banners, headers and buttons from scratch. And you can also use IBC to make custom splash pages.
Discover how in this video...
Professional Graphics at Your Fingertips!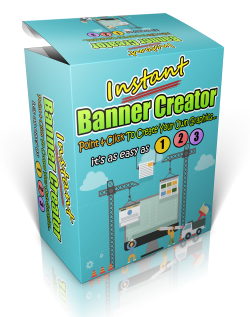 Designing graphics that rock is time-consuming even if you have the talent, and let's face it, most of us don't. And today, if your site doesn't have laser-sharp bold graphics, it's not going to get your prospects' attention.
Instant Banner Creator just cured all your graphics headaches. You choose from dozens of logos, buttons, fonts, backgrounds and clipart to electrify your banners.

And really... Can it get any better?
**Wait!**
What's Better Than FREE??
How about Free PLUS some Mind Blowing Bonuses to Get You to Take Action Today?
For the First 250 137 Action Takers!
Special Fast Action Bonus
10,000 Impressions For Your Banner!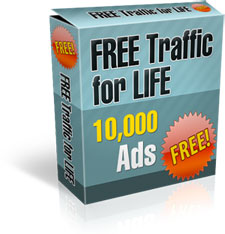 Get 10,000 free banner impressions on a banner rotation network with over 40,000 members!
Not only can you join IBC for free and create super cool, profit-pulling banners - we will even give you instant free advertising on thousands of sites...
Imagine what you can do with 10,000 new visitors heading your way...
---
Extra Fast Action Bonus
Create eCovers & Software Boxes
Easily take the graphics you have created using Instant Banner Creator, and convert them into 3D eCovers or software boxes.

This powerful script even comes preloaded with cool templates ready for use...

... And here's the kicker - You can upload these templates to Instant Banner Creator and edit them with a few clicks of your mouse

What's The Catch, Because There Is
No Way I Get All This For FREE?
Instant Banner Generator is 100% FREE! Honest, there is no catch. You get the entire program... everything I described above, for zip, zero, nada! And All the bonuses above are also your FREE!
Join the site and in less than 5 minutes you will have access to the whole system. You get:
Three Step Wizard - Creating these graphics can't be made any easier. You point... you click... you are done! You don't have to know Photoshop, Flash, or anything more complicated than operating a web browser to design high-performing banners, animated gifs, or headers.

High-Converting Templates - The templates have been designed and time-tested by professional marketers so you won't fumble around and make any rookie mistakes. The layouts are simply what works today!

Bold Original Graphics - Choose from dozens of professionally designed graphics to make your banners stand out!


Free Digital Product Hosting & Delivery - All the hassles and worries of setting up and maintaining online images are handled for you. You don't have to download and host the images on your own server, just pick the source code, paste into your web page and Instant Banner Creator takes care of the rest.
It's FREE! The Choice Really is a No-Brainer, isn't It?
There is no way you can lose on this one, is there? Actually, there is only one way. If you choose not to sign up... You lose time. You lose impact and most importantly you lose money.
Now you'll have time to do the important things in your life, just like Harris, I mean, Sal...
"...Now I Have More Time to Train for My
Upcoming Mini-Marathon!"
Ayy -- How you's doin'?
I can't believe youse guys stuck together dis simple yet effective system fo' makin' top o' da line banners, headers, animated images and footers. It's so good I can't wait ta steal it!
Your Good Buddy, Sal (dat wood be me), is gonna personally vouch for IBC...
AYYY FUGGEDABOUTIT!!
Harris here: Instant Banner Creator is so simple to use. Just follow the step-by-step wizard and you can't go wrong. If I can figure it out any one can... In fact, I like it so much, I am NOT going to 'Steal' it!
I am training for a mini-marathon in a couple months. So far I've walked it and did a combo 'wakl and jog'. I'll keep you updated on how I am doing. But the time I save with IBC I am spending in my jacuzzi! I have aches where I didn't think you could ache...
Thanks!
Harris "Sal, the Site Stealer" Fellman
www.SiteStealer2.com

If we can get Sal the Site Stealer, to join us and not steal our program, what's stopping you?

No matter how you get traffic to your offers, if you use banners, make splash pages, landing pages, web sites, buttons, whatever, you can make them more professional, more attractive, more profitable... in seconds!
So snag your copy right now and click the Join Free Now! button. You have nothing to lose and everything to gain!
Cheers,



John Merrick & Soren Jordansen
Instant Banner Creator
P.S. This isn't a decision you should think about. You get everything, for nothing! Where else in life do you get a proposition like that? The only way to lose is to not join. By joining, you set course for a new, easier life with absolutely zero risk.

P.P.S. Still not convinced? Take a look at what these guys are saying...
"...straightforward and easy to use!"
FANTASTIC Is All I Can Use To Explain Your Service.
Hey Guys,
WOW you've really outdone yourself on this one.
The interface is straightforward and easy to use.
Instant Banner Creator will saved me some serious time AND money!
I doubt I'll ever need to hire a graphic designer again.
I couldn't be happier :)
Thanks guys for providing us with another quality product.


Cedric Aubry
www.CedricAubry.com

"...the Number One Graphics Tool used by Internet Marketers!"
Hey John and Soren,
You guys have really done it this time!
Instant Banner Creator will be the number 1 tool used by all internet marketers and promoters to create their graphics. The point and click system makes it so quick and easy, even a beginner will be able to create awesome looking promotional material in minutes.
Two thumbs up for someone finally creating an online graphics tool that works!

David A Riley (DA)
My Ultimate Rotator

"...amazed that I was able to make such cool images on my own!"
I am neither techy nor creative, but Instant Banner Creator makes so easy that in no time at all I was making my own banners and peel ads.
I'm really impressed with this program, and quite amazed that I was able to make such cool images on my own.
Thanks John and Soren!
Travis Millward
www.traviskmillward.com

"...I created an animated Splash Page in 10 Minutes!"
I created an animated Splash Page in 10 Minutes!
I have to tell you what a great service this is
guys! I am certainly no techy or graphics designer.

Once I got logged in I was able to create a nice
animated splash page graphic in about 10 minutes.
Totally cool!
Michael Coursey
www.majorleaguehits.com